Opmerkelijk
Gezocht: Oma Oprel uit Strijen
Hallo allemaal, mijn oma is geboren in 1892 (Strijen)als Ingetje Oprel er waren 11 kinderen haar ouders waren Job Oprel en Hendrikje Bezemer,graag zou ik over mijn oma's familie meer willen weten. Wie kan mij hiermee helpen. Mail naar Yvonne Schriek: r.schriek@chello.nl
Gezocht: foto Koninginneweg / Kolenlaan Zuid Beijerland jaren '60
Ik ben geboren in Zuid-Beijerland in 1946 en getrouwd in 1964. In 1965 kreeg ik een huis aan de Koninginnelaan (Kolenweg). De huizen waren eigendom van H. de Heer. Het waren drie huizen aan elkaar. Ik ben al een hele tijd op zoek naar een foto of ansichtkaart van deze drie huizen. Kunt u mij helpen? J. Wander, Abelenlaan 157, 3181 WD ROZENBURG (ZH), Mail naar: j.wander@wanadoo.nl
Gezocht: informatie over schip de 'Hermina' uit Numansdorp
Ik ben op zoek naar informatie over het schip waar van ik een foto bijvoeg de "Hermina " uit Numansdorp.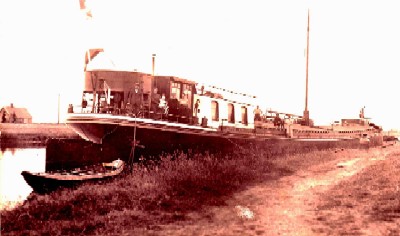 Het schip voer rond 1950 regelmatig door het Noord Hollands kanaal van Amsterdam naar Den Helder. De schipper en zijn vrouw namen mijn schoonmoeder wel eens mee voor een tocht naar Amsterdam en terug. Vaak werd er aangemeerd bij Anna Pauwlona waar ze woonde aan het kanaal en had een goede band ze. We zijn sinds kort achter de naam van de boot gekomen. De Hermina uit Numansdorp. Onze vraag is: zijn er nog meer foto's van deze boot of bestaat de boot nog? Zijn er nog familie leden van de schipper met foto's? De naam weten wij niet. Mail naar: dhr.Jonker uit Schagen: jonker347@quicknet.nl

In april 2001 ontvingen wij deze reactie uit CaliforniŽ:
Dear Mr Evertse. Mijn naam is Gerard Bouman en woon sinds 1956 in California. Ik zag onder fotografie de foto van de schuit van mijn opa Pieter Bouman. Deze foto moet genomen zijn in 1916 of 1917. Mijn moeder staat in de deur opening van het tweede huis links, met mijn zuster Neeltje op de arm, geboren 1915. Mijn opa woonde in het derde huis waar ik ben geboren. Voor op de schuit staan mijn vader Marius en zijn broer Pieter. Mijn opa verongelukte met stoomtram bij Nieuw-Beijerland in 1920 na een bezoek aan zijn broer die daar burgemeester was. Mijn vader nam de zaak over. De schuit was een ijzeren boeieraak van 42 ton laadvermogen, gebouwd in 1900, door scheepsbouwer Jilles van Limborgh te Lekkerkerk, voor de som van f 2500.--, geheel opgetuigd. In 1923 werd de schuit met vier meter verlengd en werd er een Kromhout motor in gezet. Hier is nog pentekening van de schuit aan de Blaak in Rotterdam in de jaren na 1923.
Met vr.groeten, Gerard


In juni 2000 kregen wij deze reactie uit Kingston (Ontario): Dear Mr. Evertse, of course I know what they are... errupuls were lifted by a "rooier" which was pulled by a team of Belgian horses on the farm of Jan Leeuwenburgh ... errebezen, we picked and put in tipsies by some 80 "errebezen plukkers" on the same farm managed by my father Arie and his brother Dirk van Buren. The errupuls were placed in metal "manden" and deposited in a triangular shaped "errupul pit" which was covered with straw and soil for winter preservation. The errebezen tipsies were loaded on a vrachtwagen owned by Cor van Oeveren (Klaaswaal) and driven to the market op Barendrecht. In fact, when the strawberries were plentyful, there was a risk that they could "doordraaien". That's when there are no buyers and the money clock at the market would return to zero (doordraaien). The errebezen then had to be distroyed.

By the way, I really enjoyed your web page as it conjured up some real good memories from the days when I grew up in Heinenoord in the 40ties and 50ties. Cheers, Dirk Van Buren.

En uiteraard deden wij verder navraag bij mijnheer Van Buren...

Peter, I was born at the Blaaksedijk in 1944. My folks lived in the westerly part of a triplex, opposite the Waal, a circular pond at the intersection of the Blaaksedijk and the Mijnsherenlandseweg. That's where we used to skate in the winter time. I clearly remember the trainstation at the Blaaksedijk where the rail split east to Puttershoek and west to Krooswijk. From there it split into two rails, one to Oud Beyerland and the other to Numansdorp. The one to Numansdorp went onto a ferry to Goeree and Overflakkee. Well, in 1952 we moved to Krooswijk, where the nieuwe weg and the Goidschalxoordse weg joined. We lived in the middle house of the three. Our neighbour, Johannes De Heus, was a blacksmith who shoed horses and repaired farm machinery. After my brother and I graduated, he went to the USA and I went to Canada. Currently, I live in Kingston, Ontario. But my career in Canada has taken us to Calgary, Port Hope, Calgary, Edmonton, Windsor, Ancaster and Oshawa.
My mother, who lives at Heinenoord has surprised us over the years with booklets about the history of the Hoekse Waard written by Alex Van Woel, whom I remember to be a good friend. His booklets are loaded with scenic pictures of quaint villages of the Hoekse Waard.

You wondered how I came across your web page. Well Peter, as I was browsing the net and clicked onto Heinenoord.com, I found all kind of interesting stuff about the folks I remember well. So, I thought why not try Hoekschewaard.com, and voila, the rest is self explanatory. I had much fun reading all about the various businesses and many names which were familiar to me. Hopefully, you will complete the information, of the stores you've listed, by including their email addresses, so as to make it easier reach them.

Greetings to all the folks who remember me cycling with them through the Hoekse Waard in the good old days. Please keep up the good work in developing the webpage which brings us all together.

Dirk Van Buren. En dat vinden we nou leuk en opmerkelijk. Zo spontaan zien we het graag. Mijnheer Van Buren, bij deze alsnog bedankt. Uw verhaal is een aanwinst voor de Plaza.
Terug naar pagina 'ALGEMEEN'
Terug naar pagina 'HOME'

Hoekschewaard-Plaza is onderdeel van Evertse Administraties & AssurantiŽn
Heeft u vragen of opmerkingen, laat het ons weten via info@hoekschewaard-plaza.nl.
copyright 2005 - Hoekschewaard-Plaza